Age:11 y.o.
Residence:Kiev, Ukraine
Diagnosis: tracheostomy, gastrostomy
Needs: treatment in Israel
Funds to raise: $10,000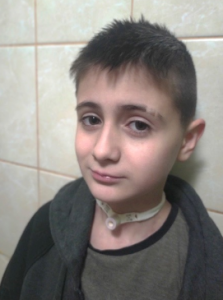 As a child, Nikita has got severe burns of the respiratory tract. They have to install two pipes for him to breathe. The post-burn scars have squeezed the lumen in the nasopharynx, so Nikita cannot breathe and eat on his own. It is difficult for him to speak. Every month Nikita under anesthesia undergoes the procedures to widen the lumen. But these procedures give short-term results only. An operation is required, which the doctors in Ukraine cannot do. Israeli doctors are ready to do this at Ichilov clinic. They planned to eliminate post-burn scars, restore normal lumen for breathing and eating. $15,000 is required for the operation and $10,000 for the accommodation for several months. The funds for the operation have been raised. However, the family is not able to raise funds for the accommodation. The mother has four children besides Nikita.