Alyona I.
The collection is over. Thank you!
Age: 1 year and 8 month
Residence: Taliza, Sverdlovsk region, Russia
Diagnosis:acute lymphoblastic leukemia
Needs: emergency treatment in Germany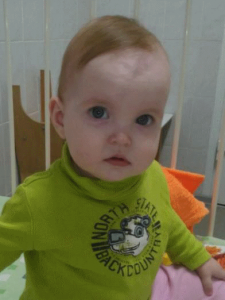 A half of her life the little one has spend in oncological hospital. This is where she learned to speak and walk … This is where she was refused by doctors when the quotas came to the end and the time had been wasted. Upon looking into her medical documents, several German clinics are ready to accept the child for treatment. The cost estimates vary from EUR 235,000 to EUR 290,000. EUR 140,000 has been already collected, but this is not enough to start the treatment. Yet it has to begin as soon as possible since Alyona gets weaker. Each day counts.