Alicia P.
The collection is over. Thank you!
Age: 9 y.o.
Residence:Korolev, Russia
Diagnosis: epilepsy, tachycardia, heart disease
Needs: funds for travel, visas and accomodation
Funds to raise: EUR 1,500.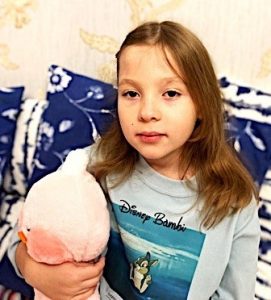 Alicia was born under the supervision of cardiologists due to an abnormal heart rhythm. Her condition was stable in the first year of life. Later, by the age of 2, the epileptic seizures began. In 2020, the girl underwent a surgery in Russia. This brought no improvement, the attacks became more frequent. The parents turned to German clinics for help. A clinic in Leipzig is ready to accept Alicia for a life-saving surgery. A Russian charity foundation helps with paying for the treatment. However, the funds are needed for travel, visas and accommodation: EUR 1,500 all together.