Alina Y.
The collection is over. Thank you!
Age:16 y. o.
Residence:Kursk region, Russia
Diagnosis: cerebral palsy, spastic tetraparesis, epilepsy, respiratory failure
Needs: Motomed Viva trainer
Funds to raise: € 750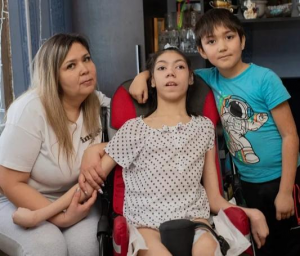 Baptized as Anna. As a result of difficult labor, Alina was born barely alive. The doctors told her mother that her daughter would not survive and suggested she should refuse her child. However, in the course of years, owing to the persistence of the mother, constant rehabilitation and treatment, the girl has learned a lot. Alina stands in the Parapodium, sits well, speaks in short sentences, reads and counts till 20. She has completed 1st grade at school, and the seizures are gone. In her 16 years, Alina has undergone more than 10 operations, and a surgery has been made to install a metal structure to support the spine. Thanks to this, Alina has a chance to move on her own. Yet for this to happen, it is necessary to train leg and arm muscles with a special Motomed Viva trainer. She has to do it every day several times a day. The mother raising two children is single, she cannot afford the cost of the trainer. EUR 750 is required.