Alisa I.
The collection is over. Thank you!
Age: 10 y.o.
Residence:Donetsk region, Ukraine
Diagnosis: hydrocephalus, scoliosis, Cruson's syndrome, malformations and diseases of the joints, Arnold-Chiari anomaly
Needs: a wheelchair
Funds to raise: EUR 2,922.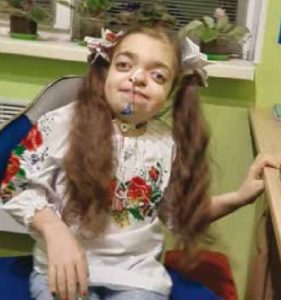 Alice was born eight months old and could not breathe on her own. She was reanimated, underwent an operation to separate two of the three cranial sutures (craniostenosis). A tracheostomy tube has been installed, then a shunt for the outflow of cerebrospinal fluid. After all this, the parents have proceeded with a continuous rehabilitation of the girl. Owing to their efforts, Alisa began to hold her head at 6 months, sat down at 9 months, she walked at the age of 1.5. When 2 years old, the girl knew all the colors, letters, numbers, built pyramids, did puzzles. Then the war raged in Donetsk region, so the family was forced to leave. The change of the place of residence has negatively affected Alisa's condition. She began to get frequent pneumonia, has suffered 4 comas, and, as the result, stopped walking. A 10 months long rehabilitation was required for the girl to be able to walk again with the support. The scoliosis began to progress, the spine curvature angle has become critical. A spine surgery has been performed this summer at a clinic in Barcelona. Despite everything she had experienced, the girl attends the 4th grade of a regular school following an individual training. She likes math and English, and loves to do puzzles. For her efforts not be in vain, Alice needs further treatment, and a wheelchair selected for her individual size. The wheelchair costs EUR 2,922.