Anastasiya V.
The collection is over. Thank you!
Age: 8 y.o.
Residence:Khmelnytsky region, Ukraine
Diagnosis:type 1 SMA
Needs: Battery for ventilator
Funds to raise: EUR 574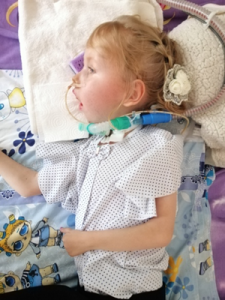 The disease deprived Anastasia of the ability to walk on her own. At the moment, she cannot even breath on her own – the girl is connected to a ventilator. She also does not have a swallowing reflex, her mother feeds Anastasia through a nasogastric tube. She cannot move independently, she is confined to a wheelchair. Despite of all, Anastasia is a very active and smart girl, her intellect is completely preserved. Anastasia is in the third grade at school, has excellent grades, loves to make various things with her hands. Unfortunately, the battery in the ventilator has failed. This puts her life at risk: now Anastasia is unable to go outside and fears a power outage. If the ventilator stops working, Anastasia will stop breathing: she cannot do this on her own.
The mother is the only one who takes care of Anastasia. The only source of income is the disability pension. They need help for buying the battery for the ventilator.
This would give the family the confidence for the future, they would go out for strolls and communication with children. Most importantly, it will save Anastasia's life from a sudden power outages.
The battery costs € 574.