Artem A.
The collection is over. Thank you!
Age: 7 y.o.
Residence:Volgodonsk, Russia
Diagnosis: Organic damage to the central nervous system, hydrocephalus
Needs: Monthly subsistance
Funds to raise: EUR 200 per month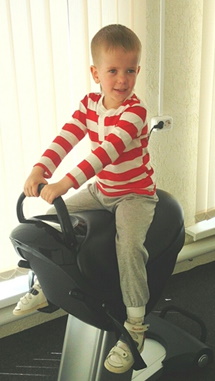 Artem was born prematurely. On the 3rd day of his life, he underwent an operation. At the age 10 months, Artem stopped turning over, the development was noticeably slowed down. There was again an operation, and then 2 years of treatment in a neurological clinic. At the age of 3, there was yet another operation. In total, Artem has survived 5 surgeries, a plenty of MRI and anesthesia. He requires a quality rehabilitation. For several years, the boy has been undergoing rehabilitation in the Taganrog Health Center and has achieved significant results. The mother of Artem brings up and treats the child alone, is constantly with him and cannot work. The family lives on the child's benefits and mother's childcare allowance. Everything that could be sold, the mother has sold already. In order to undergo rehabilitation regulary, and live rather than survive, the family needs a monthly support of 200 euros. We are looking for a sponsor who can provide such support for six months.