Asyat M.
Age: 13 y. o.
Residence: Dagestan, Russia
Diagnosis: acquired autoimmune hemolytic anemia of moderate degree, Kabuki syndrome, congenital heart disease, pulmonary hypertension
Needs: medical examination in Germany
Funds to raise: EUR 7,400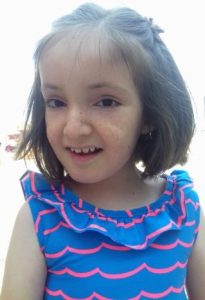 Already at birth, Asiyat got a number of diagnoses: problems with kidneys and heart, cleft palate, dacryocystitis, and more. The child was operated on at the Bakulev clinic in Moscow. Miraculously, on the 7th day after the operation, the state of the baby returned to normal, and she could breathe on her own. At the age of 9 months, after another operation, a respiratory arrest has occurred. She was reanimated and got a disappointing prognosis of doctors again. Because of cleft palate, the girl could only eat through a tube. She was not gaining enough weight. At the age of 2, Asiyat was operated on at Berlin Cardio Centre. After this, the girl's condition has improved significantly, and she began to pronounce sounds and syllables.
They close the palate, so she can eat normally. The valve was replaced. Everything went well for 5 years. Since the last year, the girl began to get sick often and eat too little. She often turns blue, and the right parts of her heart got enlarged. The doctors have to do a heart probing to find out the cause of the deterioration, and carry out the necessary treatment. The girl is expected at the clinic in Bonn. The cost of the probing, EUR 21,500, is unbearable for the family. A part of this amount will be paid by a fund. EUR 7,400 euros must be yet raised.