Bogdana and Darina S.
The collection is over. Thank you!
Age: 18 y.o.
Residence:Volyn region, Ukraine
Diagnosis:osteogenesis imperfecta
Needs: surgery in Germany
Funds to raise: EUR 30,000.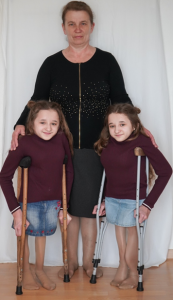 "We are Darina and Bogdana, we are twins, we live in a small village. Since childhood, we suffer from a rare disease, popularly nicknamed brittle bone disease. We are 18 years old, but we are a little more than a meter long. Our fragile bones have been fractured many times since the birth. Each of us has suffered more than 10 fractures, the causes of which seemed insignificant. This brought us a lot of suffering. From the slightest bruises, the bones break and it takes a long and painful time to recover.
Only God alone knows how much pain we have already endured and how many tears we and our poor parents have shed! For a long time we could not walk on our own, so they carried us in their arms. Later, special bicycles were purchased for us. Now, we can walk with crutches. Our beloved parents, who have retired already, do their best for us! "
To make the life for Darina and Bogdana tolerable, and to relieve their pain, a number of expensive surgeries are required. The attempts to arrange this have been going on for a long time. In January 2019, they have visited a professor at the St Augustin Clinic. The professor suggested 4 operations to each. The treatment would have lasted 1.5 years. Yet they were not able to start it – while they received a preliminary invoice and collected money, the professor has already retired. Then they turned to a Bonn clinic and have paid for the consultation again. The professor there suggested 2 operations for each sister. In March 2020, they came for the first operation. The blood was taken, the appointment with an anesthetist was held. Yet the professor got sick. The girls had to wait for about a week. At this time, covid crisis has happened, sothe clinics stopped accepting foreign patients. The girls had to fly home on a special flight of the Ukrainian airline. Later, the date of the operation was postponed by the clinic several times, since the girls are at a high risk.
Now Darina and Bogdana are expected at the Bonn clinic. The plan is to align and strengthen the bones with the help of plates and pins. This will give them the opportunity to live without pain and fear of falling, to practice more active life, to get a profession in order to care for themselves in the future. However, the clinic requires the entire amount for all 4 operations at once. This is about € 200,000.
With the help of relatives, teachers, neighbors, acquaintances and friends, some of the money has already been raised. The main amount was committed by Russian, Ukrainian and German charity funds. However, if the operations do not take place before January 2022, then all this money will be lost: the funds do not help patients over 19 years old.
It remains to collect € 30,000.