Can D. B.
Age: 5 y. o.
Residence: Turkey
Diagnosis: heart disease, DiGeorge syndrome
Needs: surgery in Israel
Funds to raise: $17,887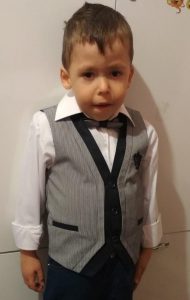 Can Daniel was born with a heart defect, at the age of 6 months he underwent an open heart surgery. The operation was successful, but a year later a genetic disease was discovered: the DiGeorge syndrome (immunodeficiency, problems with the glands, anomalies in the development of the heart, facial changes). As a result of severe pneumonia, the boy's trachea and vocal cords are damaged. The doctors in Turkey are not able to help. Daniel underwent an operation in Israel (laryngoscopy), after which the boy began to breathe and gained some weight. He requires a vocal cord surgery. They can help him child in an Israeli clinic. The cost of the operation is $30,000. The parents were able to collect a part of the amount, yet a part is provided by a German charity fund. However, they need to raise more.