Danila K
The collection is over. Thank you!
Age: 10 y.o.
Residence: Republic of Bashkortostan, Russia
Diagnosis: cerebral palsy
Required: rehabilitation in Hungary
Funds to raise: EUR 2,000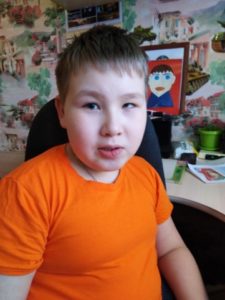 Danila was born prematurely, his lungs did not open, the first three days of his life he lived on ventilation, and suffered ischemia of the second degree. For 10 years, the parents have been fighting for the full life of their son. Danila underwent many surgeries and rehabilitation courses, that brought positive developments. Danila has learned to walk on his own from a support to a support, and take care of himself.
Children with cerebral palsy should get rehabilitation courses 3-4 times per year, but the family is not able to pay this expensive treatment. The family has two children, and the parents pay the mortgage and the loans taken for the treatment of their son.
In June, the child is expected for the rehabilitation at the Hungarian clinic Olinek.
It remains to collect about EUR 2,000.