Dima Sh.
The collection is over. Thank you!
Age: 12 y.o.
Residence:Kemerovo region, Russia
Diagnosis: neuroblastoma
Needs: financial support
Funds to raise: EUR 650 per month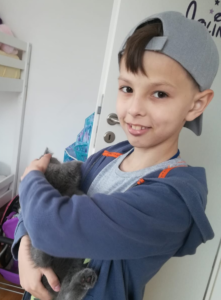 Since 2011, Dima has been undergoing treatment at Cologne University Hospital. This is when our volunteers first met this smiling boy and his family. The treatment was successful, there was a remission and Dima returned to Russia. There was a relapse in 2017, so the family was forced to come back to Germany for more therapy. Recently, Dima's father, Yuri, got ill with cancer. He cannot work yet. The mother takes care of her husband and son, and is also looking for a job to get at least some income.
The family needs very much a financial support in paying for insurance and housing, EUR 650 per month.