Elizaveta S.
The collection is over. Thank you!
Age:12 y.o.
Residence:Brovary, Ukraine
Diagnosis: undifferentiated epileptic encephalopathy, autism
Needs: treatment in Italy
Funds to raise: € 6,000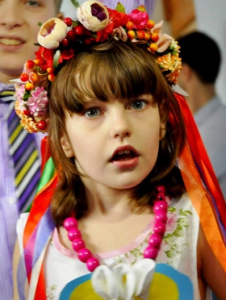 There were no health problems till the age of 2, when Elizaveta has had her first seizure. For already 10 years, the doctors have been trying to get the seizures under control. The medication treatment has a short-term effect and does not stop the seizures completely. Unfortunately, the illness affect the development of the girl. Although Elizaveta attends a regular school, every year it becomes more and more difficult for her to keep up with the pace of the studies. Drawn by the difficulties, Lisa withdraws into herself, she ceases communications. Besides, each seizure can become the last one. Her mother is fiercely fighting for her daughter. A clinic has been found where they are ready to help Elizaveta. She is expected as soon as possible at Bambino Jesi clinic in Rome, Italy. The bill is EUR 6,000.