Family K.
The collection is over. Thank you!
Age: 6, 8, and 13 y.o.
Residence:Rostov region, Russia
Diagnosis: medulloblastoma
Needs: Subsistence
Funds to raise: EUR 300 + EUR 200 per month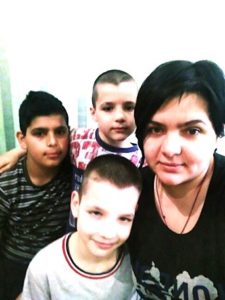 There are three children in the familly: Luka, 6 years old, bronchopulmonary diplegia; Vanya, 8 years old, cerebral palsy, hearing impairment, optic nerve atrophy; Damir, 13 years old, asthma.
We have been helping this family for several years. However, now the mother and her three children are going through most difficult times. The father has left the family. The mother makes money by cleaning the common staircases in apartment blocks. She is not accepted for better jobs because of the little and sick children.
From the letter of the mother:
«Damir loves to draw and do computer science. Unfortunately, we do not have a good wired internet connection, I can't afford this, as it comes close to my monthly income. And our old computer cannot connect to mobile internet.
Vanya and Luka dream of traveling to the parks. Previously, when I had a car (1982 Lada ), we drove with them to there: the nearest city is 55 km apart. But the car has outlived its age…
The boys dream of good toys and a bunk bed.
The situation is critical now. I can't buy them the clothes since they grow quickly. All three are stripped: so terrible to write this. It is more or less fine with Vanya, at least he has a summer outfit and sandals. Luke and Damir wear what has been bought 3 years ago.
The mere nutrition is a problem. The children ask for milk or sweets, but I can't afford this.»
Since last summer, the mother also has health problems. She often faints. She says she only holds on prayers.
The mother and her three children need about 200 euros per month for subsistence. This includes utility bills and food. For a wired internet connection and a bunk bed, EUR 300 is required for once.