Ilya K.
The collection is over. Thank you!
Age: 6 y. o.
Residence: Kazan, Russia
Diagnosis: cerebral palsy, moderate spastic diplegia, dysarthria
Needs: examination in Germany
Funds to raise: € 2,838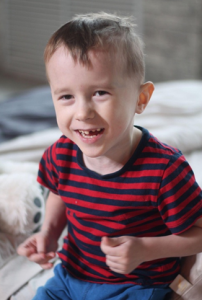 Two years ago, we have already helped Ilya to pay for a rehabilitation. Owing to this, he moved forward in his achievements. From his birth, the child struggles with the consequences of a cerebral hemorrhage. Despite the pessimistic forecasts, in the age of one year Ilya has learned to keep his head up, and by the age of 6, due to his persistence and constant exercise, he was able to sit, stand, and walk a little with a walker. The mother is doing everything possible for his rehabilitation. Ilya shows a preserved intellect, he is a very sociable and cheerful boy. In December last year, he underwent an operation on his spinal cord, that relieved spasticity in his legs. But in order to achieve success and consolidate the result of the operation, the professional rehabilitation with specialists is necessary.
The family now requires help with paying for a rehabilitation course in October at a Polish center Olinek. EUR 2,838 is required.