Ilya K.
The collection is over. Thank you!
Age: 6 y. o.
Residence: Belarus
Diagnosis: spinal muscular atrophy type 1 (SMA)
Needs:cough assist and tracheostomy tubes
Funds to raise: EUR 7,000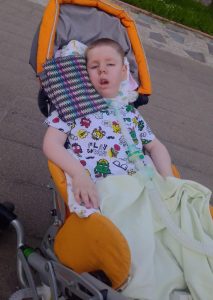 Due to illness, Ilya cannot breathe, eat, move on his own. Ilya breathes with the help of a ventilator, he can't even open his eyelids completely on his own. However, the boy's intellectual ability is preserved. Ilya needs frequent cleaning of the respiratory tract from sputum and saliva, otherwise there is a high risk of developing pneumonia. Therefore, the boy needs a cough assist and tracheostomy tubes for the ventilator. Due to the trade sanctions imposed on Belarus, it is not possible to buy either in this country. If someone can help with the search and purchase of the tubes and a cough assist, please contact us immediately. From the financial side, EUR 6,000-7,000 is required.