Ilya K.
The collection is over. Thank you!
Age: 4 y.o.
Residence: St. Petersburg, Russia
Diagnosis: cerebral palsy, tetraparesis
Required: rehabilitation in Poland
Funds to raise: EUR 1,400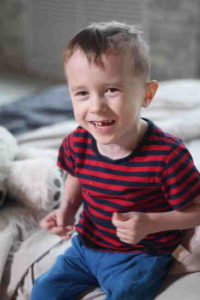 Ilya does not stand, he does not walk and hardly sits.
From the age of 10 months, since the diagnosis was established, the parents began to arrange the courses of physical therapy for the child, to bring him to the specialists. On a regular basis, Ilya underwent rehabilitation courses in leading centers of Russia, and also underwent several surgeries.
The result has became noticeable soon – the child has began to eat independently, he has mastered new movements. Despite the diagnosis and limited movements, Ilya is a cheerful boy. He is fully preserved intellectually. He seeks communication and playing games with other children, he dreams of a scooter. The mom supports him, her hero, and instills a confidence that he will succeed, he just needs to try hard!
But, in order not to lose the skills acquired, and advance further, the child needs continuous and proper rehabilitation. The family managed to find this for the child in the rehabilitation center Olinek, Poland. After a course in this clinic, Ilya could move the second leg, the muscles that had not worked before began to work. Now, there is hope that Ilya will be able to walk independently. The next rehabilitation course is scheduled for August and costs EUR 2,410. It remains to collect EUR 1,400.