Ilya S.
The collection is over. Thank you!
Age: 3 y.o.
Residence: Moscow, Russia
Diagnosis: epileptic encephalopathy
Required: treatment in Germany
Funds to raise: EUR 11,440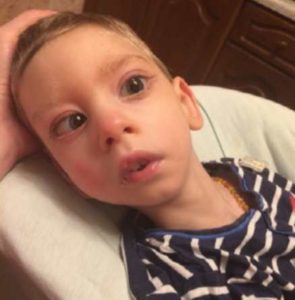 From the letter of his mother:
"Our son has diagnosed with a very rare disease and is observed in the clinic at Heidelberg University. We have repeatedly appealed to your organization for help and have received the tremendous help and support while in Germany: that with the translations, and financial one, and with picking us up at the airport. Thank you once again! However, at the moment we have to go to this clinic again. We got the bill. But we don't have money to pay for it. "
This family has already passed a difficult path. The parents have
already lost their eldest son. Now they are fighting for the younger Ilyusha. A huge number of surveys, and two trips to Germany are behind. There, they were finally able to establish a diagnosis. An extremely rare metabolic disorder was found. It is uncurable, but it is possible to
greatly alleviate the child condition, and give him an opportunity to live in joy and happiness. No time to wait.
They require EUR 11,440.