Ilya S.
The collection is over. Thank you!
Age: 19 y.o.
Residence: Vladimir region, Russia
Diagnosis: consequences of a traumatic brain injury
Needs: treatment in Spain
Funds to raise: EUR 1,200 per month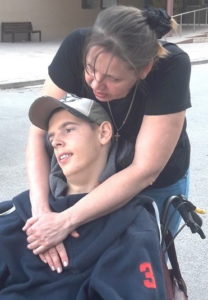 In 2015, Ilya was brutally beaten by five teenagers. As a result of his injuries and the absence of timely medical assistance, he fell into a coma. His last words were: "Mom, I am dying" … At the moment, Ilya does not talk, does not walk, cannot eat on his own. Due to the time lost, the consequences of the injury were more serious than they could have been. For 5 years now, parents have been fighting for the restoration of the basic skills of their son.
Ilya is in Spain now, for outpatient treatment at the Gutman Institute. The rehabilitation course at the institute is paid by a Russian charity fund. However, the funds are needed to pay for the apartment and purchase medicines, as well as for medical examinations by specialists.
This costs EUR 1200 per month.