Martha K.
The collection is over. Thank you!
Age:4 y.o.
Residence:Tula, Russia
Diagnosis: heart disease
Needs: to pay for housing and medicine
Funds to raise: EUR 3,000.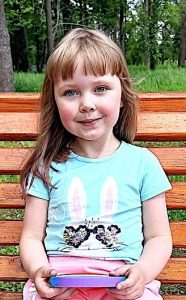 Little Martha had her first operation, that to narrow the trunk of the pulmonary artery, on the 14th day of her life. Although the operation went well, the further prognosis of Russian doctors was disappointing. The parents turned to Berlin Cardiology Center, where in 2018 Martha underwent Glenn procedure. The next phase of the operation was scheduled for April 2020, but was cancelled due to the pandemic. There was a chance to carry out this operation in November 2021 in Bonn, but that was postponed due to a strike of medical personnel. The family has been preparing for the operation and treatment for more than 3 years. Now they are already in Germany and delay of 2 months does not fit their financial plan. They require help to pay for housing and buying the medicine. This is about EUR 3,000.