Mark B.
The collection is over. Thank you!
Age:3 y. o.
Residence:Minsk, Belarus
Diagnosis: 4th stage hepatoblastoma (liver cancer) with lung metastases
Needs: treatment in Belgium
Funds to raise: € 10,000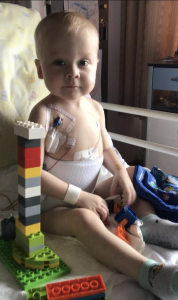 At the age of 2, Mark was diagnosed with liver cancer. The child has undergone 11 courses of chemotherapy in Belarus and a liver transplant operation. To avoid relapses, the Belarusian doctors have recommended to go abroad for the further treatment The parents went to the famous Saint-Luc clinic in Belgium.
However, after two courses of chemotherapy in the clinic, the child has developed serious complications. The doctors explained that the donor chosen for the transplant in Belarus was not quite suitable (a different blood type). Mark had to undergo two more operations to widen the clogged bile ducts, but this did not help. They had to perform a second liver transplant, now with a compatible donor. The little hero has endured everything, and now he continues to fight. The boy needs close medical supervision, rehabilitation, control and examination. For the operation in Belgium, funds for Mark has been collected throughout the world. Most of the costs have been paid for. But because of the complications arosen, the funds raised do not cover all the costs. It takes about EUR 10,000 more to complete the treatment. The bill must be paid in March.