Marta Sh.
The collection is over. Thank you!
Age: 2 y. o.
Residence: Belarus
Diagnosis: bilateral retinoblastoma of groups A and D (oncology of both eyes)
Needs:treatment in Switzerland
Funds to raise: EUR 35,500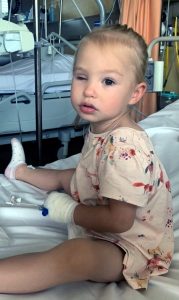 When little Marta was 3 months old, the girl's eye has begun to glow. The parents have immediately turned to the clinic for help. There was no relapse for some time after the treatment, then a new focus was discovered. The treatment was continued in a Swiss clinic with Professor Munier. The doctors tried to save the eye, but the tumor grew too fast. The eye had to be removed. It is still necessary to continue the treatment, because the tumor was in the last layer of the eye. A Belarusian charity fund has helped the parents to raise the funds for the treatment. However, these funds have already been spent by now, the money on the clinic's deposit is running out, while the treatment has to be completed. 45,115 Swiss francs are required, a part of the funds is already there, 35,115 Swiss francs (EUR 35,500) remain to be raised.