Masha R.
The collection is over. Thank you!
Age: 9 y.o.
Residence: Irkutsk region, Russia
Diagnosis: congenital epidermolysis bullosa, dystrophic form
Required treatment: emergency surgery in Germany
Funds to raise: EUR 53,400; EUR 1000 every month.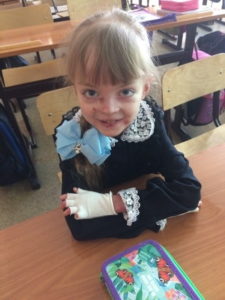 We know Masha for a long time. She was one of the first to whom the Diaconia "Good Deed" has helped in 2012, at the very beginning of our development. Then Masha was a tiny baby, almost without skin. She and her family have to go a harsh way to deal with an incurable disease. Owing to the efforts of the parents and help of kind people, amazing results have been achieved. Now she is a beautiful girl who loves to study, goes to school and plays the piano. We are glad that we were able to help then, and we hope that we can help now.
The disease has not gone, the fight is going on. Masha's body is covered with wounds that hurt and itch. During her short life, she has already undergone several operations to expand the esophagus, and reorganize the oral cavity. Another complication of the disease is the contracture of the fingers, the fingers stuck to each other like mittens. Masha needs an urgent operation NOW.
The Freiburg Clinic billed 33,510 euros for the hand operation.
Masha also constantly requires expensive dressings, mainly UrgoTul dressings, which can be bought in Europe. She requires either money for dressings (about 1000 euros per month) or the dressings themselves (80 UrgoTul dressings size 15-20 or 10-40).