Mate G.
Age: 5 y.o.
Residence: Georgia
Diagnosis: ependymoma (brain tumor)
Required: treatment in Germany
Funds to raise: EUR 21,800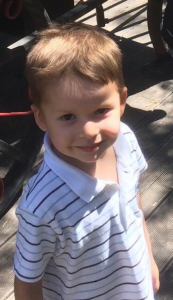 Mate (Matvey) fell ill a year and a half ago. The examination revealed a tumor in the brain. The child was prescribed 4 courses of chemotherapy and radiation therapy, and had an operation. However, the tumor relapsed in several months. The doctors in Georgia were not able to offer any treatment. The further treatment of the boy continued in Turkey. There, he underwent 2 operations, a chemotherapy and a cyberknife radiation therapy. Unfortunately, the tumor has relapsed again.
Matvey is in a clinic in Munich, where a shunt was installed to pump out fluid and a tracheostomy was placed to prevent the fluid from coming into the lungs.
The parents require help to pay the treatment. The bill amounts to € 21,800.