Miron A.
The collection is over. Thank you!
Age: 11 m.o.
Residence: Moscow, Russia
Diagnosis: binocular retinoblastoma (retina cancer in both eyes)
Needs:a tretament in Switzerland
Funds to raise: EUR 60,500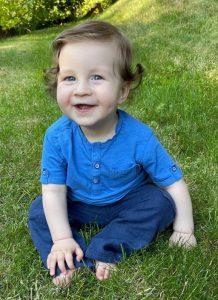 Almost from the birth date, the baby has been diagnosed and treated. The parents have considered all possible way of dealing with this aggressive disease. They have found Jules Gonin ophthalmological clinic in Switzerland, where Professor Munir, a specialist in retinoblastoma, is practising. The clinic accepts Miron for the treatment. At the moment, Miron can see with the right eye, while in the left eye only the peripheral vision is preserved. Each eye will be treated locally: with laser, cryofreeze, and chemotherapy. The treatment must be continued, as well as the monitoring of the condition of both eyes for possible relapses. Only the father of the family is employed, and they are not able to pay the bills on their own. A part of the funds for Miron's treatment is provided by a German charity fund. The family still needs to raise EUR 60,500.