Nadezhda R.
Age: 14 y. o.
Residence: Voronezh region, Russia
Diagnosis: congenital heart disease, absence of the left pulmonary artery, bronchial malformation
Needs:treatment in Italy
Funds to raise: EUR 45,000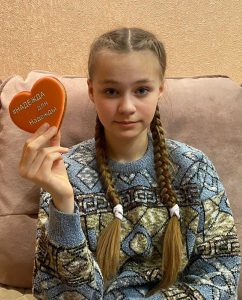 Nadezhda had her first heart operation at the age of a few months. Then there were several more operations. In 2015, Nadezhda was operated on at the Munich Cardiology Center. This helped the girl to survive and to develop fully. At the age of 12, Nadezhda has undergone a surgery in Munich again, to install a Hancock stent. The doctors warned that as the girl grows, the conduit will have to be replaced. Now Nadezhda has grown up, her height is 166 cm, and her heart is overloaded. The right parts of the heart have almost doubled in size, the pulmonary hypertension and atypical cardiomyopathy have appeared. The girl is ready to be operated on at the Massa clinic in Italy. EUR 45,000 is required.