Nastya Zh.
The collection is over. Thank you!
Age: 21 y.o.
Residence:Novokuznetsk, Russia
Diagnosis: central nervous system lesions, spastic tetraparesis
Needs: rehabilitation in Russia
Funds to raise: EUR 2,660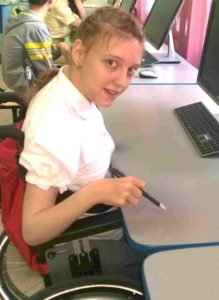 Nastya was born prematurely and has a whole bunch of various diagnoses. This does not prevent her from studying at a commerce college for the 3rd year, but makes a regular rehabilitation necessary. Since Nastya is already an adult, all charity funds refuse her. She and her mother have nobody to help. Yet without rehabilitation, the spasticity builds up, and her body does obey.
Nastya needs to undergo a rehabilitation course at the "Academician" Center for Rehabilitation in Moscow at least once a year.
This costs EUR 2,660.