Nicolay B.

Age: 6 y. o.
Residence: St. Petersburg, Russia
Diagnosis: pulmonary fibrosis, retinopathy, maldsorption syndrome, celiac disease, bleeding disorder
Required: diagnostics in Germany
Funds to raise: EUR 32,500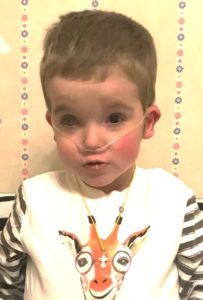 Nicolay, along with his twin brother, was born a way before the due date – at the 27th week of pregnancy. Both brothers are disabled from birth. Yet Nicolay was the least fortunate. On the second month of his life, he was diagnosed with the retinopathy of prematurity. The child underwent 4 eye surgeries with a period of 1-2 months, but but they were not able to save his vision. Later, the oxygen deficiency began to develop and grew into the pulmonary fibrosis. Now he requires a constant oxygen ventilation. At the background of this disease, the child developed hypotrophy (he refuses to eat). At the age of 6, the child weighs 11 kg with the lenght of 94 cm. He is fed through a gastrostoma. Due to the low immunity, the child gets to intensive care at any slightest SARS. Every year Nicolay undergoes all the necessary observations and treatments, but his condition worsens, and the doctors in Russia cannot help him. The doctors from the St. Augustine Clinic in Germany suggest that it is possible to improve his condition by precise dosing of medecine.
For this, the clinic sets a bill of EUR 32,500.