Nikita K.
The collection is over. Thank you!
Age: 17 y.o.
Residence: city of Nikolaev, Ukraine
Diagnosis: ICP, cerebral cyst.
Needs: intensive treatment.
Funds to raise: EUR 2,460
We helped Nikita before. From a recent letter of the mother: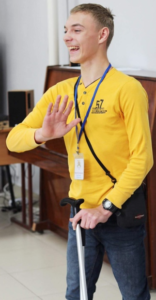 "… Nikita is already in the tenth grade. He walks with the help of sticks. He goes to school himself, since it is close to our house. Our youngest daughter Dashulya is already in the first grade. Their grandmother helps me with these two — there is no way otherwise.
Three times a week Nikita goes to the gym. In the sports club, we have organized a group for teenagers with disabilities. We have been received very warmly. And the boys like it.
In addition, he goes to a computer school three times a week. We were given a reserved place at the school for three months. This is very cool!
And the most important news. The other day, Nikita himself was able to go to the gym unaccompanied, there and back. Just by himself, first taking the bus, then getting through two pedestrian crossings. Of course, I was very anxious while waiting for him at the bus stop by our house. Still he is unsteady on his feet. He can fall at a place with no obstacles. But this was his initiative. And this is a very big breakthrough!
Well, still only the crossings with traffic lights are doable for him. And not all the buses are suitable. Many of them have too high steps. But I'm crying with joy. This is a great victory.
If possible, please help with the fund raising for the next course. For January, we have booked a course in Ratingen in Thera Reha. The bill is € 3,600 for the treatment and € 700 for the accommodation.
We would be grateful for any help. "
Advance payment was made. € 2,460 remains to be collected.