Ruslan N.
The collection is over. Thank you!
Age:9 y.o.
Residence:Belarus
Diagnosis: severe planovalgus foot deformity, grade 3
Needs: diagnostics in Germany
Funds to raise: € 73,300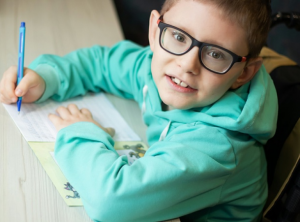 At birth, Ruslan has suffered hypoxia and hemorrhage. A small but strong man has coped with it. After a long-term treatment, he was discharged healthy. However, at the age of 8 months, he got a series of new diagnoses (delayed development, functional bicuspid valve, Proteus infection, severe planovalgus foot deformity). The difficult treatment and rehabilitation again — and again a good result: Ruslan began to walk! He attended a specialized kindergarten, enjoyed new friends and acquaintances. However, by the age of 5, Ruslan began to walk worse. To rescue his legs, they made an osteotomy of the right thigh , installed a plate and 6 bolts. Unfortunately, the operation did not put Ruslan on his feet. For 3 months he has been sitting in his wheelchair, he rarely goes outside and is depressed. The doctors in Belarus cannot make a diagnosis. The German doctors are ready to carry out the diagnostics to find the cause of the health deterioration, and the rehabilitation. The clinic is ready to accept the boy in the near future. However, the bill amounts to EUR 73,300.