Savva L.
The collection is over. Thank you!
Age: 5 y.o.
Residence: Kiyev, Ukraine
Diagnosis: esophageal atresia and tracheoesophageal septum relapse, gastroesophageal reflux
Required: treatment in Germany
Funds to raise: EUR 850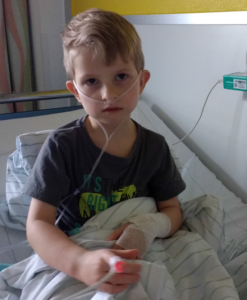 A year ago the child had an operation on the esophagus. More than a thousand people from Ukraine helped to raise the funds for the treatment in Germany. Three German funds supported him during the post surgical period. Now it is necessary to continue treatment and to observe the esophagus and stomach. To continue to eat normally, it is necessary for Savva to undergo a post-surgery examination and treatment of the esophagus and stomach in a German children's clinic in October. In Ukraine, the doctors cannot help him. There, he could only eat liquid food, solid food did not pass through his esophagus. The bill from the German clinic amounts to EUR 5000. EUR 4150 is already collected, left to raise: EUR 850.