Sergey D.
The collection is over. Thank you!
Age: 28 y.o.
Residence: Ternopol region, Ukraine
Diagnosis: retroperitoneal hemangioendotheliopericytoma with spread to the spinal canal
Required: surgery in Germany
Funds to raise: EUR 76,150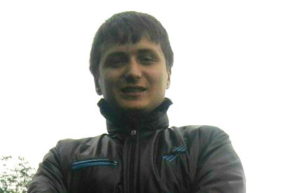 For 19 years, the young man has been fighting for his health. Below we give the excerpts from his letter:
"The disease was diagnosed in 2000, when a tumor near the spine in soft tissues with spread to the spinal canal was found in the clinic of the National Institute of Oncology in Kiev. Then, after several courses of chemotherapy and radiation therapy in 2002, I had an operation. The tumor was removed, after the operation I had chemotherapy and radiation therapy, and hepatitis C was found.
In addition to this, 3 years after the oncology treatment, since 2005, my spine has begun to deform significantly. Because of this, I had pain in my legs and spine, and it got worse every day. I could hardly walk anymore. In 2010, I went to the Okhmatdet clinic in Kiev, where I underwent an examination and was diagnosed with kyphoscoliosis. The doctors said that it is necessary to perform a complex operation to stabilize the spine. In the same year I had this surgery, they leveled the spine and installed a metal structure. Everything went well and every day it became better. There was no pain, and I could walk a little, but, unfortunately, I fell two months after the surgery. The structure could not stand it, so the spine was bent and the pain came again. It got worse and worse, the structure had to be changed, and, in addition, hepatitis B was found.
Unfortunately, in Ukraine no one dared to undertake a second surgery. In 2011, I went to Shiba clinic in Israel, where they examined me and said that I had to undergo a surgery. In the same year, I had the operation. They have changed the design of the structure, removed the first vertebra of the lumbar region and installed an implant, but after this operation my condition has worsened significantly. For already eight years, I can neither walk nor sit, and throughout all this time I have been tormented by constant severe pain in my legs and spine and a strong burning sensation in my legs. Every day I have to take painkillers that do not always help. I consulted with many doctors in Ukraine, Russia and Germany. The doctors said that there is instability of the spine and the implant has not taken root. No one, except Professor Harms, dared to do such a complicated operation. Professor Harms said that he is ready to help me. I had to do a very complicated operation to correct the spinal deformation, revise the ventral instrumentation and remove the ossified structures of the non-integrated cage. He said that a new ventral support will be installed with the layering of a large amount of own bone material. Thus, there is an opportunity to get rid of pain and a chance to recover, since I still have leg sensitivity and can move the legs.
For me, this operation is the last chance. I recently spent two weeks in a hospital because I felt very bad. I had a high fever and my legs were swollen. After the examination, I was diagnosed with vein thrombosis in both legs and diabetes. My condition is serious and is constantly getting worse. To avoid further deterioration, I need a very complicated spinal surgery that Professor Harms can do. "
The bill from the German clinic is enormous for the family that has exhausted all its resources in many years of fighting the disease. It amounts to EUR 76,150.