Sophia M.
The collection is over. Thank you!
Age: 6 y.o.
Residence: Tbilisi, Georgia
Diagnosis: cerebral palsy
Required: special medical treatment
Funds to raise: EUR 10,700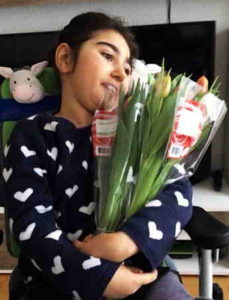 Sofia has suffered the oxygen starvation at birth. As a result, she has a big number of serious complications, she cannot swallow, keep her head, seat, and much more. We have helped this family two years ago to buy a device for pumping out the sputum, since the girl constantly suffers from pneumonia. In April of this year, a son was born in the family. The parents learned about the opportunity of a rare treatment with the stem cells extracted from the brother's umbilical cord blood. At his birth, they manage to collect and preserve these cells. This treatment is practiced in Georgia since 2015. This is the only chance for little Sophia to make her life easier. The treatment costs about EUR 10,700.