Stepan P.
The collection is over. Thank you!
Age: 3 y.o.
Residence:Kursk, Russia
Diagnosis: neuroblastoma, relapse
Needs: treatment in Germany
Funds to raise: EUR 600,000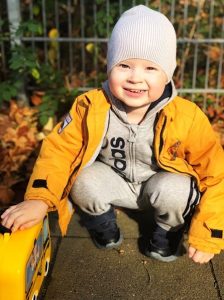 At the very beginning of life of this enduring and cheerful boy, a neoplasm was found in the left adrenal gland. Only after long visits to the doctors they establish the cause of the boy's health deterioration: the problems with the pancreas, dropsy of the testicles, fever without cause, necrosis of the femoral head. Stepan underwent 6 blocks of chemotherapy, a surgery to remove the tumor, high-dose chemotherapy with bone marrow transplantation in Russia, immunotherapy at the University Hospital Cologne and proton therapy at the Essen proton center. After completing the treatment in August 2021, Stepan was in the remission, and began the life beyond a hospital. A relapse was discovered in October. It is urgent to start the treatment from very beginning. The cost of the treatment is EUR 600,000.