Stepan T.
The collection is over. Thank you!
Age: 8 y.o
Residence: Charkiv, Ukraine
Diagnosis: CLOVES syndrome
Required: Surgery on lymphatic vessels, Rapamun medicine
Funds to raise: EUR 9.667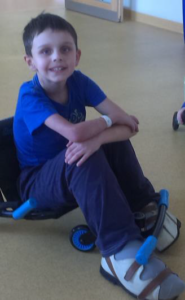 Stephan has a very rare illness. To this date there are 150 registered cases of this illness worldwide. The first five years Stephan had to go through an operation after the other, but the right diagnostic was not made, and the Russian and Ukrainian doctors didn't know how to treat him. The child has gone through more than 30 multiple-hour operations and narcoses already.
In 2013 Stephan arrived in the University clinic of Regensburg, to Professor Wolhelmut. Here he was diagnosed with the CLOVES syndrome, told how to live with it and, most importantly, was promised that they would help him, fix and ease his life. At this point the difference in the length of his legs was already 7cm, Stephan experienced pain in his legs, thrombosis.
During the treatment time in Regensburg, the professor was able to achieve substantial results and improvements in the condition of the child. Nowadays, the difference in length of legs has diminished to 4,5 cm, vessel pathology has been removed.
The family has asked us for help once again. Stephan requires a next course of treatment, he needs a surgery on lymphatic vessels. The disease of Stephan is unpredictable and treacherous. At the moment, the child undergoes a period of active growth. Together with the whole body, there is a growth of the pathological fat tissue of the right side of the body, an increase of the mass and volume of the foot, and a spreading of the embryonic fat in the abdominal region. Stephan has already a difficulty to move without assistance. Stephan has to walk with a crutch, in order to redistribute the weight of the foot on the left side. Uncontrolled growth of tissue also presents a danger to the functioning of internal organs. The professor of the German clinic, in which Stephan is being treated, recommends the Rapamun medicine. This drug and the subsequent surgery is the only way to help Stephan.
The hospitalization is scheduled for October 25, 2017, the surgery will take place on October 26.
The funds required amount to EUR 14 8​90. From this, EUR 9530 is needed for the vessel surgery and EUR 5360 is the expense for the medicine. By now, EUR 1300 is collected.
​Thus, yet EUR 13 500 needs to be raised.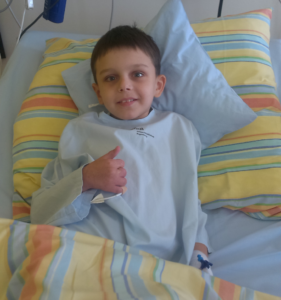 donate via PayPal