Valeria U.
The collection is over. Thank you!
Age: 3 y.o.
Residence:Novosibirsk,Russia
Diagnosis: medulloblastoma
Needs: Treatment in Israel
Funds to raise: EUR 66,000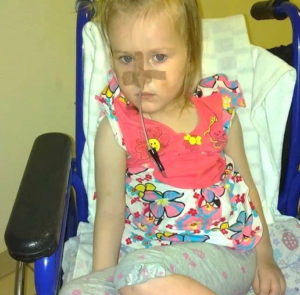 Until the age of 2, Valeria was healthy and lived a normal life of child. Then the problems with coordination and walking became noticeable. The doctors have diagnosed Valeria with a progressive brain tumor. In November 2019, a complex tumor removal surgery was performed. After the operation, Valeria stopped walking, eating and keeping her head on her own.
Valeria was not given chemotherapy because the doctors in Russia do not think she can make it. However, the doctors in Israel give her good chances. They have examined Valeria in Ikhilov the clinic , prescribed 6 chemotherapy courses, as well as bone marrow cell harvesting and transplantation. The 2nd course of chemotherapy is ending, and Valeria has had a cell sampling. The bill amounts to $ 173,000. Valeria's father works as a firefighter, the mother accompanies her daughter for treatments. The 5-year-old sister of Valeria is waiting them impatiently at home. They have to rise another EUR 66,000.