Valery D.
The collection is over. Thank you!
Age: 12 y.o.
Residence:Moscow, Russia
Diagnosis:the consequences of a traumatic brain injury
Needs:rehabilitation in Spain
Funds to raise: EUR 13,500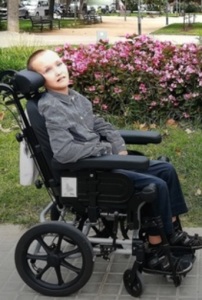 In October 2020, Valery was hit by a car. He got a severe open head injury. He was in a coma for 3 weeks, and later became a palliative patient.
The parents managed to get the child to Barcelona for the rehabilitation. Good methods and specialists, a warm attitude, praise and motivation of the child during the exercises, an accessible environment both in the clinic and in the city, access to the swimming pool with a gastrostomy tube – all this gave the positive results. After a year of treatment, Valery is clearly showing the dynamics towards recovery. The palliative status should be withdrawn soon.
Valery can hold her head up, turns on his own in the bed, makes attempts to sit down. He breathes on his own without a tracheostomy. The doctors are working on the removal of the gastrostomy tube.
Valery has regained clear consciousness, understanding and logic. He recognizes his parents, can read, recalls the school English language curriculum. He tries to talk. Yet for now he can only utter the ɑ: sound and two words: "Mother" and "Amen". The left arm and leg are just starting to move. He cannot yet hold a glass or a spoon.
The family is raising funds to continue their rehabilitation at the Guttmann Clinic in Barcelona. The cost of 3 months of rehabilitation is about € 15,000. So far they have managed to collect € 1200. The father is the only breadwinner in the family, the mother was fired from her job because of non-attendance due to the illness of her son. The family also has a younger daughter, she is 6 y. o.
For Valery's rehabilitation, it is necessary to raise € 13,500 more.