Vanya T.
The collection is over. Thank you!
Age: 4 y.o.
Residence: St. Petersburg, Russia
Diagnosis: pharmaco-resistant focal structural epilepsy
Required treatment: emergency surgery in Germany
Funds to raise: EUR 50,572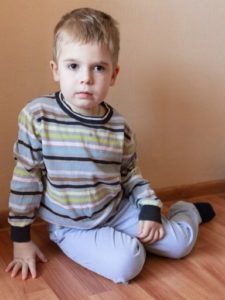 Vanya is the long-coveted second child in the family. At the age of 2.5 months, Vanya has suffered an extensive cerebral hemorrhage due to the lack of vitamin K (it is not given to newborns in Russia). An emergency operation was performed, as a result the right hemisphere of the brain was practically lost and the paralysis of the left side of the body has developed. At the age of 9 months, another diagnosis came – that is epilepsy. For a year, they managed to stop the attacks with medication. But at some point, the medications ceased to help, and now the attacks occur several times a day. Local doctors and tests did not reveal epi-activity in the child. The family turned to the German clinic Schon in the city of Vogtaroit, where an examination was carried out and a diagnosis was made with the recommendation for a surgery to separate the cerebral hemispheres.
Despite his difficult diagnosis, Vanya is able to walk on his own, eat and talk. He attends a special kindergarten, music classes, a speech therapist, goes to the pool and for hippotherapy. Vanya is a very social, musical, positive and courageous boy. But, in order for him to develop and live a full life, an urgent surgery is required. They need EUR 50,572.