Victoria M.
Age:3 y.o.
Residence:Hamburg, Germany
Diagnosis: NKH (non-ketotic hyperglycemia), scoliosis
Needs: rehabilitation in Germany
Funds to raise: EUR 1,500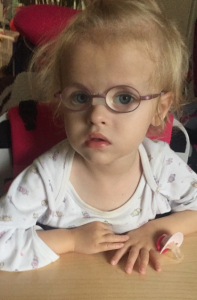 Little Victoria has a very rare metabolic disease: the girl must take medications several times a day to protect her brain from destruction, that for the whole life. The baby suffers from convulsions and epileptic seizures. The corset helps her cope with scoliosis. In order to develop and be able to move, she needs regular rehabilitation. The regular therapy helps, there are positive changes – the girl has begun to see toys, to touch the toys and laugh. She has learned to play lying on her back. Vika has begun to see her mother!
Vika sleeps with a monitoring device, since in her sleep she can have a respiratory arrest and convulsions. She needs constant care and supervision. The mother is with her daughter around the clock. The farther is employed, but they do not get enough money for everything. EUR 1,500 is required for a rehabilitation course in Tera Reha.