Vladislav Shch.
Age: 12 y. o.
Residence: St. Petersburg, Russia
Diagnosis: deformation of the musculoskeletal system
Needs: to pay for huosing during the treatment
Funds to raise: EUR 200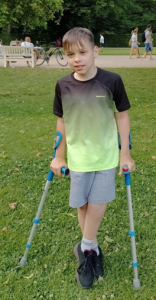 Vladislav was born with an anomalously small leg. The doctors at local clinics only offered prosthetics and predicted a possible amputation. The mother hs found a surgeon in the USA who successfully corrects such pathologies. Vladislav has already had 3 successful operations, with the 4th ahead to remove the internal metal fixation. Thanks to kind people and the efforts of his loved ones, the funds for the operation have been raised. The operation is planned for December and will take place in Warsaw, at the Medicover Clinic (European branch of the Dr. Paley Institute). Vladislav and the family must live near the clinic during the operation. The family's resources are completely exhausted, they need help to pay for housing. The cheapest option costs about 500 euros.