Yaroslav T.
The collection is over. Thank you!
Age: 12 y.o.
Residence: Minsk, Belarus
Diagnosis: congenital deafness
Required: implant system and surgery in Belarus
Funds to raise: EUR 10,800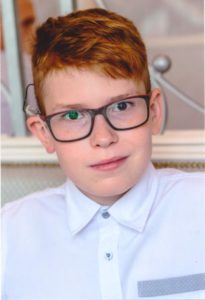 Yarik hears with only the right ear, the left one remains deaf. Because of this, he often does not recognize speech, asks what has been said, and poorly gets where a sound comes from. This makes it much harder for him to study at school, especially in a noisy environment, he has a difficulty to understanding speech, the dictations and languages are very hard for him. Despite all the problems, Yaroslav is a cheerful smart child with hobbies and dreams. He loves to draw, enjoys clay modeling, loves to swim, likes to ride a bicycle, roller skates. Yaroslav is very kind, gullible, he cares for animals.
At the age of 4, the first cochlear implantation operation on the right ear was performed.
From the letter of his mother: "Unfortunately, not so long ago, he developed edema on the site of the implant, as a result of which Yaroslav fell out of normal life for 18 days. He became deaf again. Our son is very concerned, he is waiting with fear for the next swelling. And his hearing is far from the norm. He, owing to the age, begins to develops complexities because of this. In all developed countries, a binaural cochlear implantation is practiced, that is, the operation is done on both ears. In our country (Belarus), such surgery is free of charge for one ear only. "
The family needs to acquire an implant system on their own. It costs EUR 24,000. It consists of an internal part — an implant and an external part – a speech processor. The operation is scheduled for October. They have to collect another EUR 10.000.