Yulia R
The collection is over. Thank you!
Age: 10 y.o.
Residence: Moscow, Russia
Diagnosis: erythrodermia congenita ichthyosiformis
Required: Rehabiliation in Germany, medication
Funds to raise: EUR 1,000 per month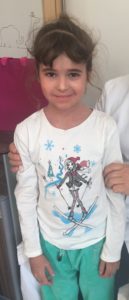 Yulichka has a rare genetic illness, which is described in medical books as a complete infection of the skin with a formation of 'fish scales'. The child lives for years at a time practically without any skin. Only the doctors in Munich were able to achieve good results due to the right combination of medications, balms and special bandage apparatus. The family is forced to constantly travel to Munich for hospitalization and medication, which is not sold in Russia.
We ask not only for your one-off financial support, but also for continuous
support over a few months. The family needs 1000 euros per month for the medication.