Zakhar K.
Age: 13 y.o.
Residence:Pavlovsky Posad, Russia
Diagnosis: cerebral palsy
Needs: A walking trainer
Funds to raise: EUR 6,000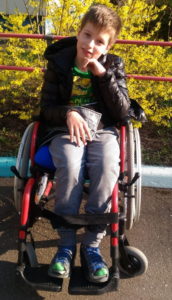 Zakhar was born prematurely, 3 months ahead of the schedule, with the weight of 930 grams only, but with a great desire to live. In the age of one year, Zakhar was diagnosed with cerebral palsy, and has followed the numerous rehabilitation courses. In 2013, Zakhar underwent a complex spinal surgery to reduce spasticity in his legs.
We helped Zakhar several years ago with the purchase of a stroller. Now Zakhar needs a walking trainer. His mother Marina has recently undergone a complex pancreatic surgery herself, as well as a repair of hernia, that she got from excessive loads when caring for her son. At the moment, Zakhar cannot move without the help of his mother. In order for him to be able to do this on his own, a walking trainer is needed. The cost of the Grillo walking trainer from Ormesa that helps disabled people with severe motor disorders, including cerebral palsy, is EUR 6,000.