A successful tour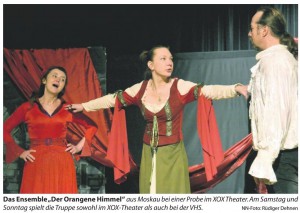 A short tour of a Moscow theather "Orange sky" in Kleve, Germany is just over.
The troupe gave 4 performances in three days.
For two evenings, the Russian- and German-speaking audience enjoyed in XOX theather an excellent stage direction and terrific acting at the performance of "The Little Tragedies" by Pushkin ( Mozart and Salieri, The Miserly Knight, The Stone Guest, and A Feast During the Plague)

For two days, the children could experience a dazzling and dynamic atmosphere of the play
"Marvelous Tall-Tales" that is inspired by Russian folklore. The performances took place in VHS Kleve. Besides, the troupe gave a master class for children participating in theater project of Globus center for kid's creativity and development.
Everybody – spectators, participants and actors – got an interesting, fruitful and notable experience of culture exchange. Besides, there was a fund rising for sick children supported by Good Deed. A half of the troupe income (EUR 316) will be used to pay medical bills of Artem L. from Kazachstan, a cerebral palsy patient, who will come to Ratingen clinics in April.
We wish to thank Mikhail Golubev, a businessman and a friend of Good Deed, for the support of the project. We are grateful to our German partners: Wolfgang Paterok, the director of XOX theater, and Thomas Ruffman, director of educational programs of VHS Kleve.
We hope on the continuation of the successful collaboration. Next year we plan to expand the program of the tour and look forward to meeting the wonderful theater again!
Alina Titova
Local newspapers about the tour