Age: 5 y.o.
Residence: Karaganda, Kazakhstan
Diagnosis: bilateral nephroblastoma (cancer of both kidneys)
Required: radiation therapy in Germnay
Funds to raise: EUR 42,800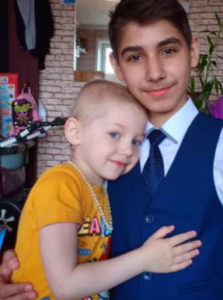 The child underwent the surgery: a kidney was removed and a resection was done on another; 6 chemotherapy courses were performed. However, in a year, a relapse on the left kidney has taken place.
Arina is currently undergoing hemodialysis. And she urgently needs radiation therapy. Kazakh doctors do not want to take such responsibility. The girl needs to go to the Heidelberg clinic for radiation therapy, the place where she underwent the basic treatment. The bill for 20 courses of radiation therapy amounts to EUR 42,000
Age: 11 y.o.
Residence: Kharkov, Ukraine
Diagnosis: CLOVES Syndrome
Required: surgery in Germany
Funds to raise: EUR 14,602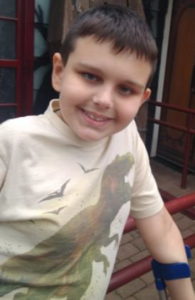 We have helped Stepan several years ago. Then the surgery, and the subsequent administration of the drug prescribed by a German professor, have significantly improved the condition of the child. The the plates in the knee, which restrained bone growth, have been removed and, over the past year, the difference between the lengths of the legs did not increase.
Stepan walks with the help of crutches. He is a very active boy, dreams of boxing and takes video lessons at home.
But, with the onset of puberty, Stepan undergoes changes that are dangerous for him.
A sharp increase in fatty tissue occurs in his body. The responsible doctor is very concerned with this and suggests a surgery to remove the fatty tissue in places where it can interfere with the functioning of internal organs. It is necessary to make the vital functions easier. On October 21, Stepan is expected at the clinic.
The bills for the surgery to remove fatty tissue and the cost of the sirolimus drug and compression hosiery amount to 14 602 euros.
Age: 13 y.o.
Residence: Sochi, Russia
Diagnosis: congenital heart disease
Required: surgery in Germany
Funds to raise: EUR 63,805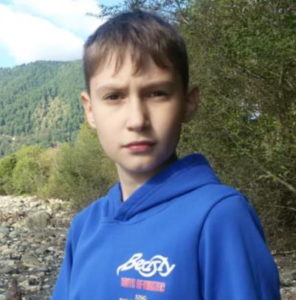 Yaroslav is a kind and cheerful child. He is fond of chess, loves logical puzzles, and wants to become a programmer in the future. From the letter of his mother:
"We had been examined in Bakulev Scientific Center for Cardiovascular Surger, but, due to the complexity of the problem, we were denied the operation. The condition of the child had worsened, and by the age of 7 Yaroslav could not walk any longer, had blue skin and short breath. The chief pediatrician of the center sent inquiries to German clinics, and the Munich Cardiocenter agreed to carry out a number of surgeries. In 2014, my son has undergone at the Cardiology Center in Munich. After the treatment, Yaroslav has changed beyond recognition. He was able to walk, to attend school, he did not go blue anymore. For this surgery, we have collected the money on our own. The next surgery was carried out in 2015.
Every six months we fly to Munich for a check-up. In March 2019, a deterioration has been noted. The professor has decided for another surgery. "
The operation is scheduled for November 26, 2019. The bill is EUR 63 805.