APRIL 2020
Dear friends,
I hope that your mind is not totally absorbed by thoughts about pandemia, and there is a room to feel real life – and, if you wish so, you can feel how steadily you stand on a floor, either cold or warn, how a fresh wind or a warn sun ray touches your skin, what is a view from your window… To live in a moment, here and now, is very important for preserving harmony and keeping in good spirits. Also, for being able to help others in this difficult time. Help to those in hospitals, or orphaned, or under arrest, or diagnosed with grave illness, those who take care of an ill child… To all those in fear.
Now we are close to each other as never before. We can feel from inside the state, feelings and thoughts of our care-receivers, people who constantly fight a dangerous and grave disease.
It is important to remain human and support each other now.
We are in need of each other. Our prayers, time, money, spiritual and physical powers are needed. The Resurrection of Christ is close by!
Thank you for being with us!
Our volunteers in Germany and other countries solve now difficult problems related to the transportation restrictions between countries and cities, isolation of the families. We bring food to trapped in quarantine in a foreign country, take care of those who cannot come home after the treatment, provide a psychological support. At this difficult moment, we are with our care-receivers.
Excerpts from the reports of the coordinators of our local groups:
"In March, we have helped, also with translation, to the family of Sasha P. and Yaroslav B. Both boys have undergone complex surgeries: brain tumor removal by Sasha, open heart operation by Yaroslav. Because of the situation with coronavirus, people living in the Ronald House have been resettled. Five families of our care-receivers have been placed to a hotel under strict quarantine. We bring the food and everything required, and always keep in touch…"
"We have met the S. family at the train station, escorted and translated in course of the consultations at the university hospital. The surgery is scheduled for the end of April… We brought to three families in elderly home the insurance payments. We support the families psychologically: on-line and on phone.
For new care receivers from Russia – Elena B and her son Alexander, 3 y.o., neuroblastoma – we have bought and brought the food and household items required. Owing to quarantine and weakened immune system after a chemotherapy course, they just cannot leave the flat they live in. We have kept contact to minimum exercising all precautions – masks, gloves, short visit."
With your help, in March we have managed to support financially the family of Artem Agarkov, 7 y.o., Vogodonsk, Russia, organic damage to the CNS, a big family in harsh circumstances from Orenburg, and also The monastery of St. Spyridon in Gailnau, where they organized a care for gravely sick, now departed, mother Lukiya (Prudnikova), 68 y.o., terminal lung cancer.
In April, our help is awaited by: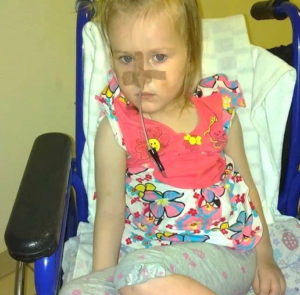 Valeria Ubiyko, 3 years old, Russia, Novosibirsk. diagnosed with medulloblastoma.
Until the age of 2, Valeria was healthy and lived a normal life of child. Then the problems with coordination and walking became noticeable. The doctors have diagnosed Valeria with a progressive brain tumor. In November 2019, a complex tumor removal surgery was performed. After the operation, Valeria stopped walking, eating and keeping her head on her own.
Valeria was not given chemotherapy because the doctors in Russia do not think she can make it. However, the doctors in Israel give her good chances. They have examined Valeria in Ikhilov the clinic , prescribed 6 chemotherapy courses, as well as bone marrow cell harvesting and transplantation. The 2nd course of chemotherapy is ending, and Valeria has had a cell sampling. The bill amounts to $ 173,000. Valeria's father works as a firefighter, the mother accompanies her daughter for treatments. The 5-year-old sister of Valeria is waiting them impatiently at home. They have to rise another EUR 66,000.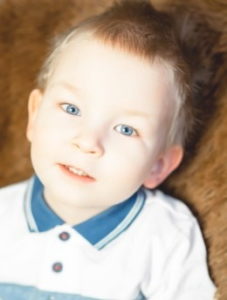 Vlad Kasperovich, 2 years old, Minsk, Belarus. Diagnosis: spinal muscular atrophy (SMA) type 2.
The struggle for the life of this little blue-eyed boy has been going on since his birth. He was born weighing only 1380 grams: yet he survived. However, after some time, the parents have noticed that the baby began to lower his head, hardly can support himself on his hands and slowly turns over to his side. Vlad was diagnosed with SMA. Upon development of this disease without treatment and supportive therapy, a child loses walking skills, does not sit anymore, stops eating on his own, then stops breathing, and dies; whereby the intelligence is fully preserved. Now Vlad doesn't walk, doesn't sit on his own, hardly holds his head, and has breathing problems. The salvation is Spinrase medicine that is registered in the US and Europe, but not in Belarus. It would stop the development of the disease. The price of the medicine is enormous, EUR 500 000. However, this is the price of life.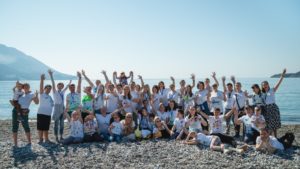 Тhe second DobroMore rehabilitation program period took place in Montenegro from March 10 to 20.
The families with children or adults suffering from cerebral palsy came for this program of "happiness therapy". In total, about 50 people from Russia, Ukraine, Belarus, Montenegro, and Germany took part in this program period.
The period was taking place at the background of the alarming situation that reached almost all countries of the world by the end of March. However, the program was almost completed. The training sessions, creative and professional workshops, the classes with a psychologist, hikes, the swimming pool sessions, hippotherapy – all that went according to schedule.
We hope that this vaccination with happiness will help all participants to successfully cope with all the difficulties and challenges the modern world gives to a person.
The next program period will take place in fall of 2020. We will inform you later about the date and location. Please follow the publications in our pages at Facebook and Instagram, as well as at our website dobromore.eu
Please read more about our events and the work of volunteers at orthodiakonia.de
We welcome your support.
The future will come anyway!
It is in our power to make it brighter and more joyful!
HURRY TO DO GOOD!
I wish health to you all! Take care of yourself and your loved ones!
I embrace you heartily,
Yours Alina Titova