APRIL 2021
Spring is in full swing. So we have more and more strength for good deeds! Thank you for being with us and carrying on with helping people around!
With your help, in March we have managed to fully or partially pay for the treatment of:
Mark Badanin, 3 years old, Belarus, liver cancer,
Natalia Gergel, 62 years old, Ukraine, breast cancer,
Elizaveta Savelyeva, 12 years old, Ukraine, epileptic encephalopathy.
The volunteers of Diakonia groups in Germany have visited families who arrive for the treatment, helped with translation at appointments with doctors, and taken them to church. In March, the assistance was provided to several dozen families. An excerpt from the report of one of the groups: "We have prepared for the arrival of the family of G.: we got a folding bed, kitchen utensils, purchased food and prepared lunch for the arrival, and met them at the airport." Our volunteer translators have translated 34 pages of medical documents in March.
Thanks to everyone who helps and supports!
In April, our help is expected by: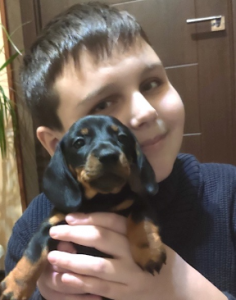 Stepan Tishkov, 12 years old, Ukraine, Kharkov, CLOVES syndrome.
We know Stepan for several years and have helped him with previous surgeries in Germany. Now the family is forced to ask for help again.
CLOVES syndrome is a rare congenital syndrome of overgrowth accompanied by vascular abnormalities. One of Stepan's legs is twice as thick as the other. The syndrome is incurable, but it is possible to control it. Persistent treatment and surgeries are needed to maintain a patient's life, especially in time of growth and puberty. Right now Stepa is having a very difficult period, he has problems with the genitourinary system. The boy experiences constant pain due to a violation of lymph flow, severe swelling is formed, an inflammatory process occurs, and fever rises. He also has to constantly take antibiotics.
Since November 2020, Stepan practically does not leave his house, he does not get out of bed for days. The doctors in Ukraine cannot help, now the German doctors prescribe the treatment remotely. A surgery is required to improve Stepan's health. The German clinic in Halle is ready to take Stepan in April. However, the bill amounts to EUR 25,000. All small income of Stepan's mother is spent on stabilizing his condition, and she needs help.

Mikhail Minaev, 42 years old, Odintsovo, Russia; diagnoses: osteomyelitis, infectious dermatitis.
Mikhail was a professional hockey player. Ten years ago he had a terrible car accident, after which he spent 3 months in a hospital and underwent many operations. Several time they attempted to install Ilizarov apparatus, but this did not bring any positive results. For all ten years following the accident, the man can only walk with crutches. Osteomyelitis and infectious dermatitis have begun to progress. Now Mikhail needs an amputation surgery and a high-quality prosthetics of his leg. The treatment can be provided in a clinic in Murnau, Germany. Mikhail wants to work, live an active lifestyle and create a family. EUR 76,000 is required.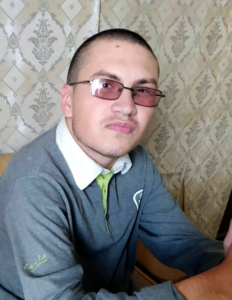 Alexander Skripilev, 22 years old, Oryol, Russia; diagnoses: Hallerworden-Spatz disease, parkinsonism, tetraparesis.
The health problems began all of a sudden at the age of 11: deterioration of handwriting, gait, metabolism, speech. The doctors have diagnosed a rare and incurable disease. For almost 8 years, the mother has been fighting for Alexander's health. Some drugs are being developed in Germany, but it is not yet known how long will it take to test and certify this drug. To maintain Alexander in stable condition and preserve his ability to stand on his own, rehabilitation and medication are required. There is a chance to get those at the rehabilitation center "Rodnik" in St. Petersburg. But the only income of Alexander and his mother is a disability pension, and the cost of rehabilitation is unaffordable. EUR 2,500 is required.
HURRY TO DO GOOD!
I wish health to you all! Take care of yourself and your loved ones!
I embrace you heartily,
Yours Alina Titova