AUGUST 2021
Dear friends, in July we have helped to pay for the treatment to Danila Miroshnichenko, 4
y.o., Ukraine, heart disease, and to Maxim Antonenko, 29 y.o., Ukraine, progressive left-sided
squamous cell carcinoma.
Thank you!
In this month, your help is awaited by: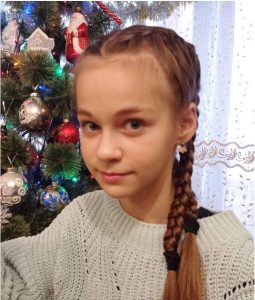 Nadya Rasstrygina (baptized as Nadezhda), 12 years old, Russia, Voronezh region, diagnosis: congenital heart disease, absence of the left pulmonary artery.
The first of Nadya's many heart surgeries has done when she was only a few months old. In 2015, Nadia underwent a surgery at the Munich cardiology center, and it helped the girl a lot. For several
years she lived a full life, but now, since her body is growing and changing, she begins to get worse: cough and wheezing have returned. The correspondence consultation in Munich cardiology center has shown that a new operation is necessary. It costs € 35,150.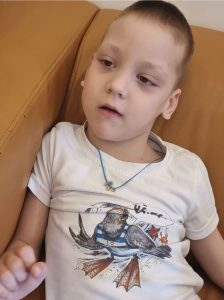 Spartak Pazilov (baptized as Serapion), 5 y. o., Primorsky Territory, Russia, diagnosis:cerebral palsy, spastic form, delayed psycho-motoric development.
As a result of a very difficult and long delivery, a newborn baby has got brain hemorrhage. Spartak spent almost a month in intensive care, but was able to recover. However, deterioration began to appear at 3 months. After a planned vaccination high fever has aroused, and the baby stopped holding his head. Only in the age of 1.5, it was finally possible to make the diagnosis.
From a letter of Spartak's mother:
"We live in the small town of Partizansk together with his grandparents. Both are disabled. Grandmother struggles with oncological disease, has underwent 2 operations. Grandpa is also sick and also has had 2 operations. Spartak's father has said that such a burden is too hard for him, and left the family when I was with the child being treated. We live on the retirement and childcare benefits. I cannot get a job, since Spartak requires care, and all the day I spend next to him. Unfortunately, there are no good clinics in the Primorsky Territory for special kids. And it is not known when they will be built here. Also, there are no special kindergartens nor schools. There are no rehabilitation specialists for exercise therapy. I'm just afraid for the future of my child and I want to scream for help to the whole world so that my little Spartak is able to stand on his feet. "

The treatment at the Rodnik Children's Rehabilitation Center in St. Petersburg has brought the concrete results: Spartak has begun to hold his head, to roll over, and hold his back. Yet for these achievements to persist, the regular rehabilitation courses in the center are required. The
family does not have the means to pay the costs of rehabilitation. The cost of the closest course
is € 3,000.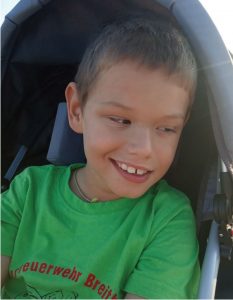 Dima Seredyuk (baptized as Dimitri), 9 y. o., Kiev, Ukraine, diagnosis: cerebral palsy of mixed form and complete dislocation of the hip joint.
Dima has been fighting the disease since birth. Massage courses, physiotherapy, developmental classes gave the positive results. Dima began to hold his head, sit down, walk: that was waited for so long. But the doctors have discovered a dislocation of the hip joint and banned him to get up and walk. The muscles are weakened since the boy cannot exercise and is forced almost always to stay in bed. The operation is required as soon as possible. The doctors are ready to do it this month. Because the operation is complex, it will be undertaken in Germany. The cost of the operation is € 25,000.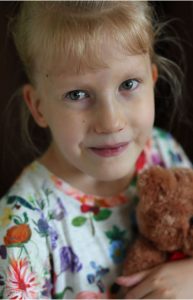 Anna Abramova (baptized as Anna), 8 y. o., Novosibirsk, Russia, diagnosis: congenital heart disease.
Little Anna was born with a difficult congenital heart disease. On the 11th day of life, the baby has underwent her first operation, the surgeons made up her missing lung vessels. After that, every six
months the girl was taken to examinations and operations. During 6 years, Anna got 3 complex heart surgeries and 10 endovascular operations with stenting.
Anna was able to successfully complete the 1st grade at school. If there is a possibility to undergo examinations and health check-ups on time, the girl will be able to develop further and follow an active
lifestyle. Her condition is satisfactory at the moment, yet the blueness of the face and lips already manifests the decreased saturation, this is also confirmed by the measurements. Anya urgently needs the next examination along with all necessary manipulations for heart and blood vessels. They are ready to do this already in August at a clinic in Bonn, Germany, where she had the previous
operations. In the year of the pandemic, the father lost his job, and the family was unable to raise the
required amount by the deadline. Anna needs € 21,500. It remains to collect € 7,400.
HURRY TO DO GOOD!
I wish health to you all! Take care of yourself and your loved ones!
I embrace you heartily,
Yours Alina Titova