Christmas in university cllinics, Cologne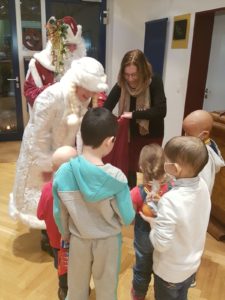 Фото
Every year, at the Christmas holidays, the volunteers of Diaconia "Good Deed" visit their care-receivers and try to fulfill their wishes and dreams. Thereby the Light of the Feast of the Nativity of Christ penetrates the walls of hospital wards and dormitories, and, in spite of grave illnesses and troubles, even for a short time joy and comfort come to the children and adults . This year in Cologne, in addition to the volunteers, the teachers of the Children's and Youth Center in the name of St. John of Shanghai – who are great specialists in holding children's parties – came to the sick children. Unfortunately, the sick children cannot be invited to the populous parish celebrations because of their weakened immune system and the danger of viral infection. However, Santa Claus and Snow Maiden were up-and-comers. They come up with the games, songs, riddles – both for those who move freely and for those who are confined to isolation.
In the evening of the second day of Christmas, the carrige of Santa Claus, fully loaded with presents, stopped at the gate of the clinic. The children were already looking forward to the guests and surprises. Prior to this, Father Andrey Ostapchuk, the prior priest of the Cologne parish, has visited them so many could receive the communion. The Father warned the children that Santa Claus was on his way, that he was about to come.
There was a joyful atmosphere in the hospital hostel. Santa Claus, Snow Maiden, children, mothers, volunteers: everyone was playing, singing, and dancing. Every child became a winner and received some prizes. And although the big company hardly fit the game room , and the big Christmas tree in the lobby was dismantled the day before, the Christmas tree holiday party turned out to be surprisingly cheerful and bright. The fairy tale guests gave an assignment for the next year to each child, and said goodbye to the children in the dormitory. They went on to the heart of the clinic, to the children's oncology department, to those who are bedridden, and are temporarily prevented from running and playing with friends. There, in the realm of droppers and wheelchairs, Santa Claus could barely hold back his tears. Yet Snow Maiden did not allow him to melt and limp. Soon the sound of children's laughter could be heard in every room and in the hall where Santa Claus was passing giving the ressents from his huge red bag. The droppers, medical instruments and tubes could not disturb guessing riddles, reading poems, singing songs, rejoicing and smiling.