DECEMBER 2017
Dear friends, congratulations with the forthcoming feasts!
Now it is a right time to remind people that Good does exist. In fact, the "now" time is generally the best time for good deeds. And it is easy and natural to do this in these pre-Christmas days.
Thank you for being with us!
On the eve of the Christmas feast, I address everyone with special hope and gratitude. For more than five years now, owing to Diakonia, all of us are fortunate to participate in the destinies of others, to give hope, to give away a piece of our heart.
Helping others is not easy. For this it is necessary to overcome our fears, disbelief, laziness, selfishness … For these five years, we all became a little better! We shall thank our children for this! We give them a chance to grow up, and grow along with them …
Much gratitude to all who made help their usual business! Your monthly donations give confidence in tomorrow to suffering children and their parents!
In addition to direct financial assistance, the children, their relatives, and the volunteers serving them, require your prayers, spiritual and moral support! You will find the names in the monthly prayer list in the end of the letter. Please give a minute of your time and your warmth to those for whom it is very important to feel love or at least simple human participation right now!
Christmas time is a time of mercy and miracles. Let us be worthy of it! Our site www.orthodiakonia.de gives all details on how to get involved.
In November-December we have managed, with your help, to pay the housing for the family of Dima Sherstoboev, 9 y.o., neuroblastoma, who is following therapy in Cologne, and costs of rehabilitation in Thera Reha center for Nikita Kucherenko, 16 y.o., cerebral palsy. And we have helped to a family to transport the body of their deceased child from Germany to home.
There are only two names in our December list: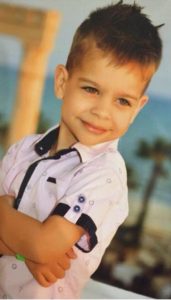 Danya Barannikov, 5 y.o., brain tumor.
It was a happiest family -mother, farther, and Danya the son – till December 10, 2017. All of sudden – unstoppable vomiting, he can neither walk nor see. Emergency transportation, the hospital and the sentence: "A large inoperable brain tumor". In 5 days Danya has been sent home with the words: "An urgent radiotherapy is required, no other therapy would help" However, the equipment in the Russian hospital where he would do this appeared to be in maintenance till the end of the New Year holidays. The medical professor in the hospital was frank to point out that the child will not make it till the end of maintenance. The parents have found a hospital in Israel where they can treat the child right away.
The bill amounts to EUR 57,000.
We have to collect EUR 20,000.
Nastya Paramonova, 5 y.o., damage to CNS, tetraparesis.
Owing to her heroic mother and her own perseverance, the child has reached a great success contrary to the forecasts of the doctors. EUR 1,500 is required for another rehabilitation course in Olinek hospital in Poland.
In December, in Europe there was a series of charity fairs that were organized by Diakonia volunteers. We have collected about EUR 10,000. All funds have been used for paying the treatment of our care-receivers as well as those of our colleagues. The details can we found at www.orthodiakonia.de.
In 2017, we have provided financial assistance to 31 children. About a hundred kids have received the support from our local volunteers as well as in organization of their treatment. We have collected EUR 69,000 in addition to financial aid that we have helped to obtain from German funds. We really can do a lot together.
Take care of yourself and your loved ones.
Happy Chirstmas and merry New Year!
HURRY TO DO GOOD!
Warm hugs,
yours Alina Titova
PRAYER LIST FOR DECEMBER:
For the health of:
infants Artemy, Nadezhda, Tatyana, Mikhail, Diana, Nicolai, Raphail, Savva, Sophia, Yulia, Milania, Eva, Irina, Nicolai, Maria, Cyril, Galina, Aleksy, Nadezhda;
children Maxim, Dariya, Nikita, Anphisa, Anastasya, Fotinia, Inna, Natalya, Irina, Sergy;
Domna, Daniil, Mikhail, Aglaida, Tatyana, Mikhail, archpriest Sergy.
 
For the health of our volunteers and friends and for God's help in their every good deed:
Sergy, Andrei, Veronica, Georgy, Maxim, Dimitry, Maria, Elena, Evgeniya, Nina, Angelina, Tatiana, Ekatherina, Anna, Ekatherina, Irina, Evgeniya, Fotinia, Olga, Tatiana, Lubov, André (privately), Tatiana, Mikhail, Natalia, Irina, Andrei, Alla, Irina, Elena, Vladislav, Vera, Maria, Elena; Angelina, Sergy, Alexandra, Galina, Yuli, Anton, Nicolai, Elena, Evgeniya, Elena, Marina, Marina, Margarita, Daniil, Andrei, Xenia.
Please also pray for their relatives!